Voluntary health insurance

To legal entities to offer additional services and facilitate the use of medical care, we have cooperation with the company Wiener Städtische insurance and added to our offer Vizim program of voluntary health insurance.
This program represents the collective insurance policyholders allows an unlimited number of services within the basic package of services, which can be achieved in the institutions of the Health center Vizim. The offer is aimed to companies that care about the health of their employees and want to provide them with adequate and safe protection.
Basic service package:
Views (general practitioner, internist, cardiologist, pulmonary examination gynecological examination with colposcopy and PAPA test, eye examination, dental preventive examination, dermatologic examination, physiatrist review),
Diagnostics (ultrasound scans, Doppler diagnostics, audiometry, fundoscopy, spirometry),
Laboratory (complete blood count, biochemistry, urin analysis),
Therapy (service providing infusions and medicines).
Additional services:
Health checkup,
Physical therapy,
Pediatric services,
Physicians checkup of other specialties,
Optics,
Dental package.
Conditions:
Minimum number of employees from one company to activate the program is 30.
The program of health care under the same conditions, employees can introduce the members of his family.
Benefits offered by the package Vizim:
Services of company doctors,
The opening of the infirmary in the premises of the company,
Free medicines.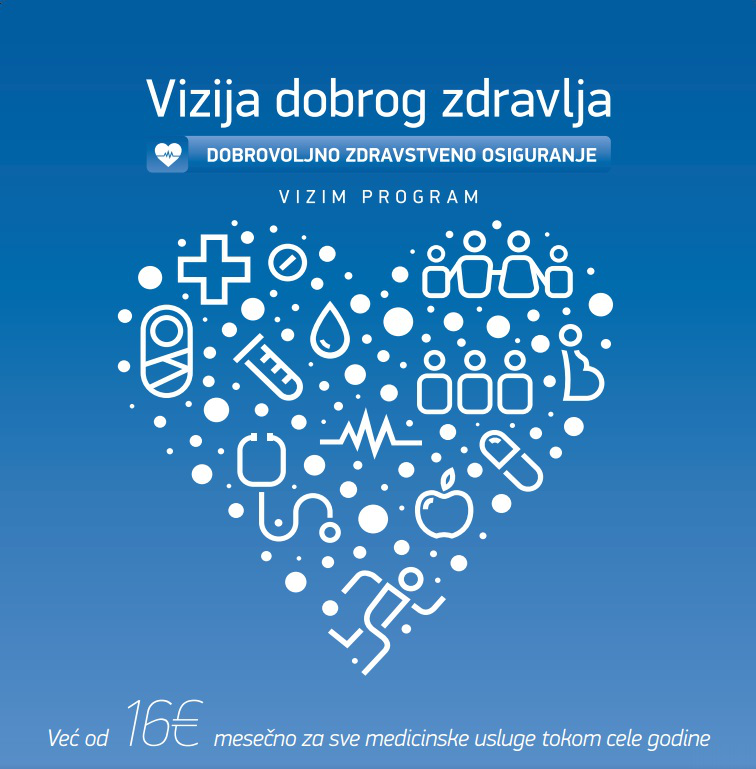 All additional information on the insurance can be found on the website of Wiener Städtische insurance www.wiener.co.rs or by calling their call center: 0800 200 800